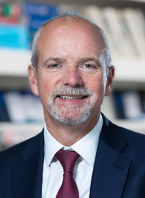 Last year was very busy for our industry – we responded quickly to the Russian invasion of Ukraine, addressed the immediate impacts of the Government's fiscal event in September on liability-driven investments (LDI), lobbied for policy change leading to the Edinburgh Package of Reforms and continued to support clients as we all grapple with the increased cost of living, spiralling inflation and further economic uncertainty – and it looks like this pace will continue into 2023.

Importantly, this year we are advocating for the government and regulators to ensure the competitiveness of the UK in a post-Brexit, post-pandemic, economy. While the industry has shown itself resilient in the face of unparalleled geopolitical and economic travails, the regulatory burden has continued to grow, with new costs on firms weakening the attractiveness of the UK.
Investment management is one of the UK's few truly successful global industries, for this to continue, policymakers and the industry should share a common outlook based on helping citizens save and invest, while promoting the UK as the natural destination for firms to innovate and grow their businesses.

This year, with the support of the IA's Board and Advisory Council, we will continue to focus on championing a competitive policy environment, influencing and shaping regulatory changes, including the Future Regulatory Framework, Consumer Duty, and the Edinburgh Reforms.
We will continue to advocate for a positive environment for sustainable investing through the design and implementation of UK sustainable finance rules, as well as international coordination and consistency. We will also be highlighting the pivotal role of innovation in spurring economic growth – and its importance for our industry as we strive to meet emerging clients' demands in the retail and institutional markets.

Edinburgh Reforms and what this means for our industry
The Edinburgh Reforms, announced in December, will significantly shape our industry and the landscape in which we operate in the coming years. We welcomed Jeremy Hunt's reforms when they were first announced, and we share the Government's vision for an open, sustainable and internationally competitive financial services industry that benefits savers, investors and businesses across the UK.

We have already discussed the reforms in detail with both the Chancellor and City Minister, and how they fit with the wider competitiveness agenda. We will continue to engage with Government, opposition parties and regulators, so that these reforms promote the UK's place as a leading global financial services hub and reflect the value of our industry as a driver of economic growth and prosperity.

A core element of this is the proposed new secondary objective for regulators tasking them with competitiveness and economic growth, so that the UK is in a position to be the leading financial centre and can continue to attract high levels of investment.
We have been vigorous in lobbying for the inclusion of the competitiveness objective in the Financial Services and Markets Bill now going through Parliament as we see it as a necessary step to ensure the authorities recognise the international nature of our industry and its clients. The UK must address its waning competitive position and become a more innovative jurisdiction.

For our industry, there were a number of specific measures that we were particularly pleased to see, including the Government's support for the Long-Term Asset Fund (LTAF), which will help to open access to private markets by providing greater capital for long-term investment.

Our industry has been working at pace on the launch of the first LTAFs and responded positively to the FCA's recent consultation on broadening retail distribution these funds. The introduction of such funds to retail investors can allow them to further diversify their portfolios by accessing non-traditional investments. Of course, the right protection and robust standards of governance are crucial in their introduction to retail investors, and we look forward to working with the regulator to make them a reality in the near future.

We were also pleased to see a proposed repeal of PRIIPS and a renewed assessment of retail disclosure rules included in the Edinburgh Reforms and this is already the subject of a recent FCA discussion paper. Combined with the reforms to advice and guidance regimes, we hope to see many more people getting the advice and information they need to make smart investment decisions, helping them to reach their financial goals in the short and long term.

Sustainable and responsible investment
In 2023, a key focus for our industry will be ensuring sustainable and responsible investment is match fit for modern investors' needs, so that these products can be easily understood and compared. The FCA's consultation paper on Sustainability Disclosure Requirements and Labelling is central to this aim.
A labelling system, if gotten right, would afford investors the chance to easily compare sustainability credentials, further, we are also intent on ensuring international consistency so that clients can make informed decisions. We will be submitting our response to the FCA's consultation later this month and look forward to seeing progress in this crucial area as we believe there are areas for improvement in their proposals.

On the topic of sustainability, the FCA's working group on ESG data and ratings is an important first step in improving the transparency and quality of ESG data and increasing confidence in the market for sustainable investments. This year, we will be working with the FCA, ESG data and ratings providers, and rated entities to develop a Code of Conduct that promotes best practice around the world.  We are keen that it leads to an outcome which reduces the costs member firms pay for ESG data and ratings.

As we head into 2023, our industry will need to continue to demonstrate the resilience it showed in 2022, delivering for the people we serve and seeing progress in some of the key areas I've outlined.