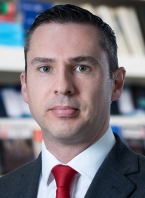 Investing for the Future – where do funds go from here?
At the IA Annual Conference in July, we launched 'Investing for the future: three potential paths for a tech-powered UK funds industry'. The report outlined a vision for Investment Fund 3.0, built on technological transformation, a forward-looking regulatory framework and improved engagement with customers. The original publication was covered widely by press, including in The Financial Times, The Times and City AM, invigorating the conversation about where the fund industry will head next and what needs to be done to achieve meaningful progress.  
Policy makers are paying attention, and we have recently met with Treasury and the FCA to discuss our agenda and the regulatory framework necessary to make this a reality. We are also hosting regular meetings with trade bodies and other stakeholders to understand their needs and concerns. It's now time to start putting our recommendations into practice, and we are working at pace to support out firms in ensuring that they are in the best possible position to serve millions of savers in the UK and internationally.
In the report, we look particularly at the potential of tokenised funds, where shares or units are digitally represented and can be traded and recorded on the distribution ledger, which can reduce costs for customers and improve efficiency in the delivery of funds through quicker settlements and improved transparency of transactions. With this in mind, we also call for the government and FCA to create a taskforce to harness the benefits of decentralised finance and to establish the necessary framework to allow tokenised funds to operate in the UK. Both FCA and HMT have been keen to engage on these recommendations.
Customers are at the heart of our work, and in Investment Fund 3.0, they will have increased options for customisation and participation, and greater control over preferences to shape their portfolios. We call for the facilitation of better support, such as less formal advice or personalised guidance services, to address the current advice gap in the UK. We will also work closely with regulators and the wider industry to roll out the next generation of digital information provision and disclosure to consumers, such as KIIDs and reporting.
Finally, we look at the role of native digital assets – assets that originate or are only available in the digital world – in future investment funds, which is dependent on new regulation. We propose that regulated routes for certain forms of native digital asset exposure need to be established, together with an assessment of the eligibility of cryptoassets within UCITS and domestic funds for well-diversified portfolios. We also call for the FCA to define the 'rules of the road' for cryptoassets to minimise risk and provide necessary guidance to investors.
We are looking forward to continuing our work with regulators, our members and other trade bodies in the coming months to bring many of our suggestions to fruition, creating a forward-looking fund landscape that brings long-term benefits, including operational efficiency and lower costs, to both industry and investors.
Please join us on this journey. Our next member meeting is on 20 September and you can register here.
To read an executive summary or the full report, please click here.