Deliver continuous and engaging learning with our award-winning Learning Management System (LMS)
IA's LMS and diverse collection of eLearning courses are designed to help you engage your learners, support their performance and development, and ensure the health, safety and compliance of your employees and organisation now and in the future.
The IA Learning solution is available as an eLearning suite, a self-contained platform or as a more enterprise, feature rich solution.
Single annual license £495 + VAT
Single annual Licence
Member - £495 + VAT
Non-member - £645 + VAT
Are you a small to medium size business, or an individual looking for a solution to cover your learning-based compliance requirements? IA Learning offers the tools necessary for compliance professionals to meet the current and upcoming regulation and compliance based challenges and changes to the industry legislation. The online modules will give you the evidence you need and allow you to cover all your compliance and regulatory learning all for £495.
The IA Learning solution is flexible and can be provided in different formats to meet your needs of your organisation. The enterprise solution gives you your own customised LMS with the full Access LMS functionality, including a gamified learning app.
Click here to sign up for a 7 day free trial and experience a few learning modules IA learning has to offer.
Discount Bundles
| | |
| --- | --- |
| Number Of Licences | Discount |
| 5 + | 5% |
| 10 + | 10% |
| 20 + | Enterprise Bundle - Please contact Amy Layton for discount package options |
IA E-Learning Courses 2024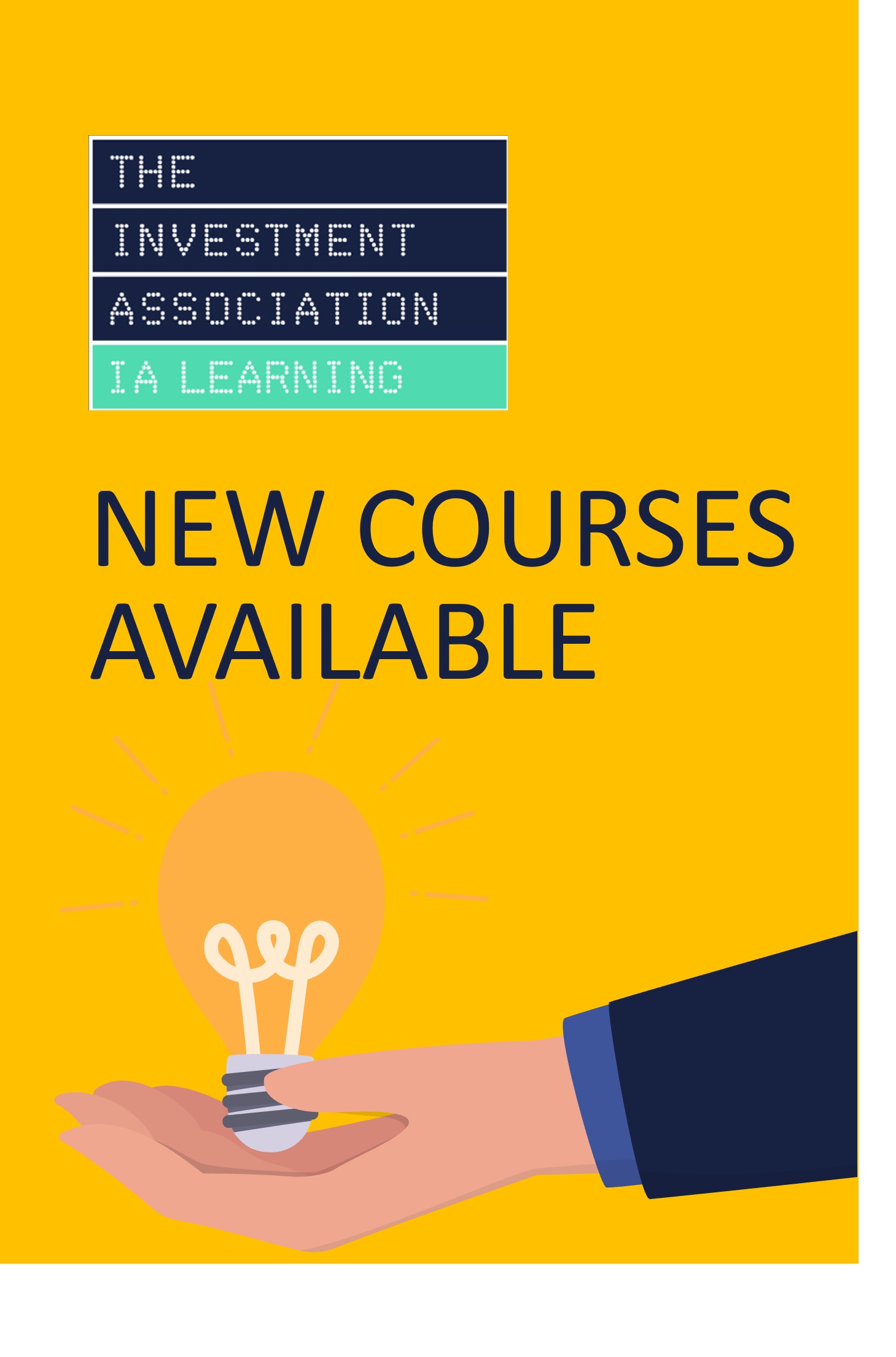 Newly added course

ESG, Sustainability and Impact Jargon Buster

Mobilising the Finance Sector to Net Zero

Types of Greenwashing and Key Terminology

The Scale of the Net Zero Challenge

CSR and Sustainability in Financial Services

Diversity and Inclusion in Financial Services

What are Ethics?

Diversity for the Collective Good

Risk Management Introduction

What is Culture and why is Culture Change Important?

Overview of Key Compliance Topics

What is Operational Risk?
Image
IA Learning Solution
The IA Learning LMS is a scalable platform that can be tailored to meet your specific business needs.
Underpinned by the award-winning Access Learning LMS, it is an end-to-end solution on which you can build and enable a learning culture and evidence competency across your organisation.
One single instance gives you access to an easy-to navigate, customisable learning platform delivering a wealth of industry-leading training courses.
Image
LMS highlights
Powerful reporting & audit tools: Quickly highlight knowledge gaps or areas of non-compliance across your ogranisation
Continuing Professional Development (CPD) tracking: Automatically log CPD time accrued from online learning activities, or manually add offline time.
eCreator authoring tool: Build and tailor your own courses or add custom modules to existing learning pathways.
On-the-go access: Deliver learning content anytime, anywhere and on any device with the free Learning Path app.
Image
Industry-leading training courses
We have a wealth of industry-leading eLearning courses to support effective and engaging learning in your organisation that our delivered on our LMS.
The IA Learning offering includes the following course libraries:
Governance, Risk & Compliance for Financial Services
Cyber Awareness & Resilience (approved by National Security Centre)
Working in the 'New Normal'
Mental Health & Wellbeing*
Workplace and Soft Skills*
*These course libraries can be added as an extra to your package
Image
Flexible solutions to suit your organisation
The IA learning solution is flexible and can be provided in different formats to meet the needs of your organisation.
Already have an LMS? Our eLearning course libraries can be made available straight to your own LMS.
Self-contained platform: our industry-leading eLearning courses delivered on the easy-to navigate IA Learning LMS.
Enterprise Solution: Your own customised LMS with the full Access LMS functionality, including a gamified learning app.
Image
Mental Health & Wellbeing
Supporting a healthy, happy workforce is important to ensure the wellbeing of your employees, teams and the organisation.
For employers looking to improve mental health and wellbeing in the workplace, equipping employees with the right knowledge in areas such as recognising and handling stress, and recognising and handling mental health conditions is vital.
eLearning Course Libraries
Governance, Risk & Compliance
Cyber Awareness & Resilience
Working in the 'New Normal'
Workplace and Soft Skills
All our compliance courses have been created in collaboration with some of the industry's foremost subject matter experts and include 50 learning titles aimed at all financial service sectors.
Our training has been designed to provide a clear overview of the relevant regulatory themes, including specific role-related case studies that bring the content to life.
The courses are split into the following areas:
Fundamentals
Conduct
Financial Crime
Senior Managers & Certification Regime
Specialist topic areas
We know 90% of successful cyber-attacks start with the unwitting mistakes we often make in our busy daily lives. Our cyber awareness and resilience training can help you build secure employee behaviours, at home and in the workplace.
It provides practical, short and engaging, campaign based online training certified by the UK's National Cyber Security Centre.
Returning your workforce to shared workspaces after either furlough or remote working is a challenge. Not only are the challenges internal but also external with clients, customers and consumers alike.
We have curated a content bundle to assist with these ongoing challenges all being faced by you and your staff.
A suite of contemporary eLearning courses covering workplace and soft skills with over 170 course titles, covering an increasing range of professional skills.
Soft skills are essential to developing strong interpersonal, communication and personal development skills which contribute immeasurably to the overall success of an organisation.